GR0462 Carbon Fiber Machined Product
Carbon Fiber Machined Products could be used as parts for cars, bicycles, and models plane frames, and more. It's light-weighted but stronger than iron. Stanford Advanced Materials provide custom machined carbon fiber products with competitive price. We manufacture carbon fiber materials in various shapes, sizes, and colors, and CNC carbon fiber parts are also available.
Related products: Graphite Mold, Graphite Electrode for EDM, Graphite Heater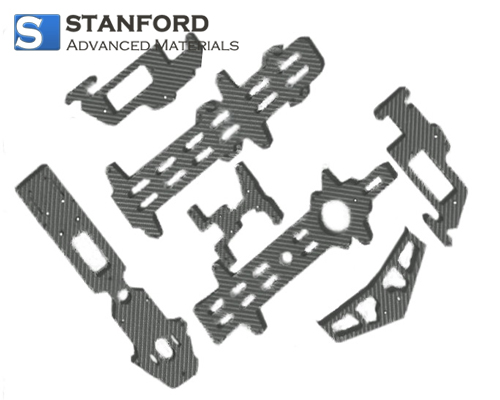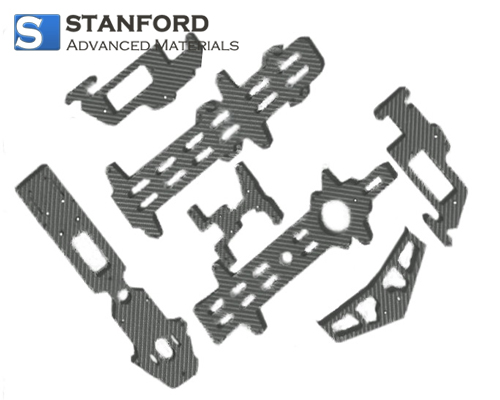 Carbon Fiber Machined Product Description
Carbon Fiber Machined Product is a long and thin strand of fiber composed mostly of carbon atoms. As carbon atoms are bonded together in crystals within the fibers. As the carbon crystals are more or less formed parallel to the long axis of the fibers, the material is extremely strong for its size.
Thousands of carbon fibers, usually 3k~12k for consumer products, are twisted together to form a yarn. These carbon fiber yarns are further fabricated or weave into carbon cloth, which is the foundation of most carbon fiber products that we can find on market. Then, carbon cloth would be combined with epoxy or other polymers and molded into different shapes for various applications. Carbon fiber materials are so strong that even materials made by lower grade carbon fibers, e.g. T300, have great strength if designed and manufactured in a proper way.
Carbon Fiber Machined Product Application
Carbon fiber parts are light weighted, compared with similar components made by metal. Carbon fiber composite materials are used to make high-performance sports equipment, including bicycle frames, fishing rods, automobile body parts, frames for models, and more. High-quality carbon fiber materials are applied in aviation industries to replace traditional alloys.
Carbon Fiber Machined Product Features
As the demand for carbon fiber parts continues to increase, working with carbon fiber machining experts has become exceedingly important. Carbon composites can break unpredictably, resulting in potential unrepairable results if not machined properly. Some benefits of machined carbon fiber parts include:
Corrosion-resistant
Non-toxic
Non-flammable
X-ray permeable
Electrically conductive
GET A QUOTE
Please fill in your details and one of our material experts will get back to you within 24 hours. For more information, contact us via E-mail at sales@samaterials.com.
** Email address with your company's domain name is preferred. Otherwise, we may not be able to process your inquiry.