GR0460 Carbon Fiber Wrapped Tubes
Carbon Fiber Wrapped Tubes are light weighted, extremely strong, and can be applied to make frames, sports products fishing rods, and other consumer products like tripods. Stanford Advanced Materials manufacture carbon fiber materials in various shapes, sizes, and colors. We offer pultruded carbon fiber tubes, carbon fiber rods and roll wrapped carbon fiber tubes.
Related products: Graphite Mold, Graphite Electrode for EDM, Graphite Heater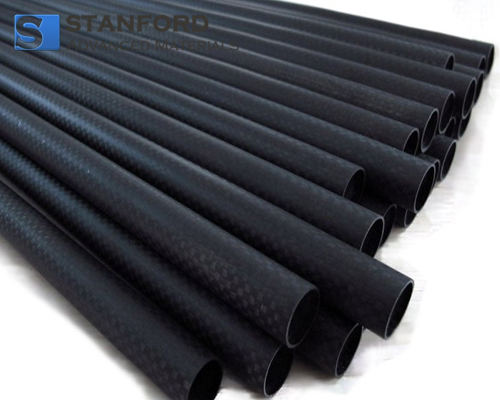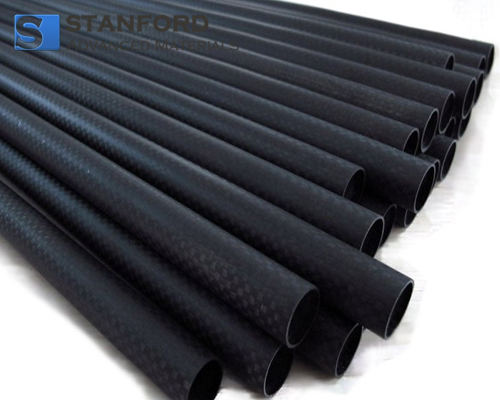 Carbon Fiber Wrapped Tubes Description
Carbon fiber is composed mostly of carbon atoms. As carbon atoms are bonded together in crystals within the fibers, the material is extremely strong for its size. Even materials made by low-level carbon fibers, e.g. T300, have great strength if designed and manufactured in a proper way. High-quality carbon fiber materials are applied in aviation industries to replace traditional alloys.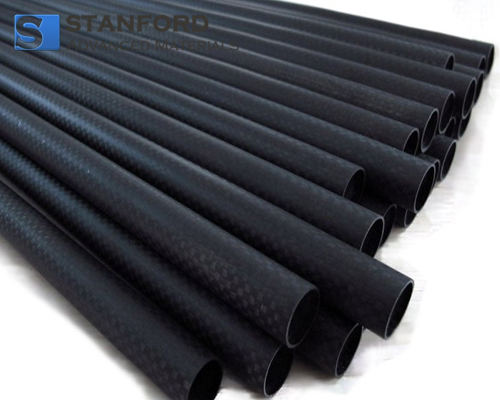 Carbon Fiber Wrapped Tubes Specification
| | |
| --- | --- |
| Type | Wrapped carbon fiber tubes |
| Shape available | Round, Square/rectangular, other |
| Fiber grade | Tairyfil, Toray |
| Number of fibers in the bundle | 3k~24k |
| ID | 3~150mm |
| OD | 4~150mm |
Carbon Fiber Wrapped Tubes Applications
Carbon fiber tubes are used in numerous applications like tactical ladders, trusses, beams, and more. Carbon fiber is typically chosen over traditional materials such as aluminum, steel, and titanium because of the following properties:
High strength and stiffness to weight
Excellent resistance to fatigue
Dimensional stability: Low CTE (Coefficient of Thermal Expansion)
Resistance to corrosion
X-Ray transparency
Chemical resistivity
GET A QUOTE
Please fill in your details and one of our material experts will get back to you within 24 hours. For more information, contact us via E-mail at sales@samaterials.com.
** Email address with your company's domain name is preferred. Otherwise, we may not be able to process your inquiry.