TA1731 Tantalum Tungsten (Ta2.5W) Alloy Products
Tantalum Tungsten (Ta2.5W) Alloy Description
Tantalum-Tungsten (TaW) excels due to its sensible mechanical properties and glorious corrosion resistance. Tantalum tungsten is a high strength metal alloy. It has a high melting point, tension resistance, and corrosion resistance. SAM's tantalum alloys are made using powder metallurgy techniques by mixing tantalum powder with alloy elements and filling them into molds, compressing them at temperatures of up to 2000 bars, and then sintering them. Ta10W alloy (90% tantalum, 10% tungsten) is one of the most popular alloys. Our Ta10W Alloy is thus especially well suited for the heat exchangers and heating components used in the chemical instrumentation construction field.
We also supply high purity Spherical TaW Powder (TA2.5W), Tantalum Tungsten (Ta2.5W) Alloy Powder, Spherical TaW Powder (TA7.5W), Spherical TaW Powder (TA10W).
Tantalum Tungsten Alloy UNS Grade
* UNS R05255, tantalum alloy, 90 % tantalum, 10 % tungsten, the electron-beam furnace of vacuum-arc melt, or both.
* UNS R05252, tantalum alloy, 97.5 % tantalum, 2.5 % tungsten, electron-beam furnace or vacuum-arc melt, or both.
* We also can provide Ta7.5W, 92.5% tantalum, 7.5% Pure tungsten
Tantalum Tungsten (Ta2.5W) Alloy Products
Plate
* Sheet
* Strip
* Rod
* Sputtering Target
* Tube
Tantalum Tungsten Alloy Price List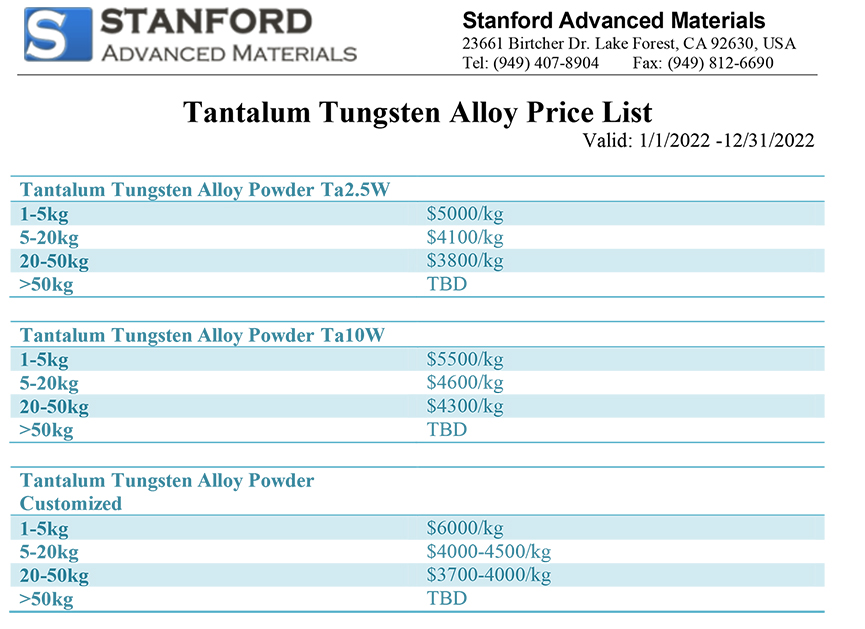 Other Tantalum Tungsten products
Tantalum tungsten alloy crucibles, Tantalum-tungsten alloy nuts, Tantalum-tungsten alloy bolts, Tantalum-tungsten alloy heating elements, Tantalum-tungsten alloy shielding screens.
Contact molly@samaterials.com for current pricing or for a quote on tantalum-tungsten alloy and other tantalum products not listed.
GET A QUOTE
Please fill in your details and one of our material experts will get back to you within 24 hours. For more information, contact us via E-mail at sales@samaterials.com.
** Email address with your company's domain name is preferred. Otherwise, we may not be able to process your inquiry.