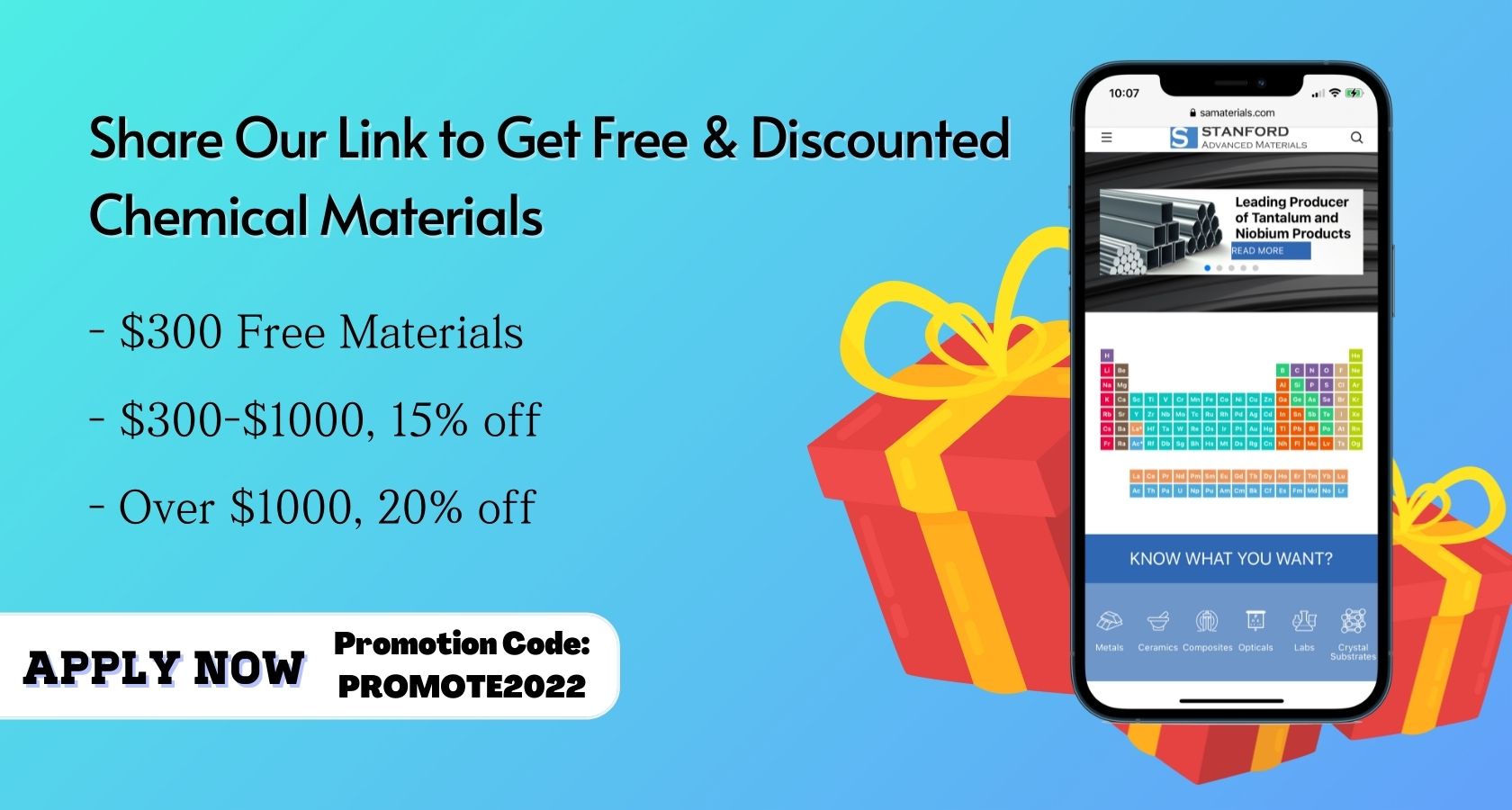 CURRENT PROMOTIONS
We are thankful for each and every one of our wonderful customers. To show our appreciation,
Stanford Advanced Materials
offers the best discount
on the
materials such as high purity non-ferrous metals, rare earth oxide powders, rare earth fluoride, and magnets to support researchers & manufacturers across all fields of study and industrial production.
We are offering free & discounted chemical and engineering materials for college departments, laboratories, and clubs. In return, we ask that you share our website link on your website page, or mention our name in your blog or future publications where you use the materials.
Feel free to ask us if interested. The promotion code for this project is PROMOTE2022.
Please call one of our staff members at (949) 407-8904 to receive your discounted quotes on the following stock items.
Material: Yttrium Fluoride Powder (YF3) Material:Tantalum Pentoxide Powder (Ta2O5)
CAS: 13709-49-4 CAS:1314-61-0
Purity: 99-99.995% Purity: 99.9%, 99.99%
In stock: 25+ KG, 30% off market value In stock: 20+ KG, 20% off market value
Lead time: 3-7 days(Depend on Real-time Qty) Lead time: 3-7 days(Depend on Real-time Qty)
Material: Ytterbium Oxide (Yb2O3) Material: Tantalum Pentoxide Powder (Ta2O5)
CAS: 1314-37-0  CAS:12036-44-1
Purity: 99.9%, 99.99%, 99.995%, 99.998% Density (at R.T.): 8.6 g/cc
In stock: 100+ KG, 20% off market value In stock: 30+ KG, 25% off off market value
Lead time: 3-7 days(Depend on Real-time Qty) Lead time: 3-7 days(Depend on Real-time Qty)
Material: Terbium Oxide (Tb4O7) Material: Mo≥99.95% & TZM
CAS: 12037-01-3  Shape: Bar
Molar mass: 747.72 g/mol Size: >4.0mm Dia. x L
In stock: 35+ KG, 25% off market value Standard: ASTM B387
Lead time: 3-7 days(Depend on Real-time Qty) In stock: 2PC(0.4KG), 50% off market value
Lead time: 3-7 days(Depend on Real-time Qty)
Material: Gadolinium Oxide (Gd2O3) / Gadolinia Material: Yttrium Oxide (Y2O3) / Yttria
CAS: 12064-62-9 CAS: 1314-36-9
Density (at R.T.): 7.07 g/cc Formula Weight: 225.81
In stock: 300+ KG, 20% off market value. In stock: 100+ KG, 20% off market value
Lead time: 3-7 days(Depend on Real-time Qty) Lead time: 3-7 days(Depend on Real-time Qty)
Material: CeO2 powder Material: Neodymium Oxide
CAS: 1306-38-3 CAS:1313-97-9
Tap Density(g/cm3): 7.13 Melting Point: 2233 °C
In stock: 350+ KG, 20% off market value In stock: 20+ KG, 20% off market value
Lead time: 3-7 days(Depend on Real-time Qty) Lead time: 3-7 days(Depend on Real-time Qty)
Material: Hafnium Oxide Powder Material: OX1057 Europium Oxide (Eu2O3)
Catalog No.: NN1578 CAS: 1308-96-9
APS: 50nm Melting Point: 2350 °C
In stock: 350+ KG, 20% off market value In stock: 75+ KG, 20% off market value
Lead time: 3-7 days(Depend on Real-time Qty) Lead time: 3-7 days(Depend on Real-time Qty)
Material: Praseodymium (III, IV) Oxide Material: Gallium Oxide (Ga2O3)
CAS Number: NN1578 CAS:12024-21-4
Purity: 99.9%, 99.99%, 99.999% Density: 6.44g/cm3
In stock: 100+ KG, 20% off market value In stock: 5+ KG, 30% off market value
Lead time: 3-7 days(Depend on Real-time Qty) Lead time: 3-7 days(Depend on Real-time Qty)
Material: Terbium Oxide Evaporation Materials Material: Samarium Oxide
Catalog No.: VD0731 CAS: 12060-58-1
Purity: 99.9% ~ 99.99% Purity: 99.9%
In stock: 35+ KG, 20% off market value In stock: 60+ KG, 20% off market value
Lead time: 3-7 days(Depend on Real-time Qty) Lead time: 3-7 days(Depend on Real-time Qty)
Material: Holmium Oxide (Ho2O3) Material: Fused Magnesia
CAS: 12055-62-8, 39455-61-3 CAS: 1309-48-4
Molar mass: 377.86 g/mol Purity: 99.9%
In stock: 50+ KG, 20% off market value In stock: 1+ KG, 40% off market value
Lead time: 3-7 days(Depend on Real-time Qty) Lead time: 3-7 days(Depend on Real-time Qty)
Material: Tantalum Oxide/Tantalum Pentoxide Material: Lanthanum (III) Oxide
CAS: 1314-61-0 CAS: 1312-81-8
Formula Weight: 441.98 Purity: 99.99%, 99.995%, 99.999%
In stock: 50+ KG, off market value In stock: 150+ KG, 20% off market value
Lead time: 3-7 days(Depend on Real-time Qty) Lead time: 3-7 days(Depend on Real-time Qty)
Material: Scandium Oxide (Sc2O3) Material: Zirconium Oxide (Zirconia)
Catalog No.: VD0723 Catalog No.: OX1427
Purity: 99.9% ~ 99.99% Chemical Formula: ZrO2
In stock: 5+ KG, 30% off market value In stock: 15+ KG, 20% off market value
Lead time: 3-7 days(Depend on Real-time Qty) Lead time: 3-7 days(Depend on Real-time Qty)
Material: IN2333 Indium Oxide Powder Material: Silicon Powder (Si Powder)
CAS: 1312-43-2 CAS: 7440-21-3
Purity: 99.99 % Melting Point: 1414 °C
In stock: 1+ KG, off market value In stock: 150+ KG, 50% off market value
Lead time: 3-7 days(Depend on Real-time Qty) Lead time: 3-7 days(Depend on Real-time Qty)
Material: Gallium Metal (Ga Metal) Material: Scandium Metal (Sc Metal)
CAS: 7440-55-3 Catalog No.: SC1017
Melting Point: 29.78 °C Purity: 99.99%, 99.995%, 99.999%
In stock: 1PC(2KG), 20% off market value In stock: 10+ KG, 40% off market value
Lead time: 3-7 days(Depend on Real-time Qty) Lead time: 3-7 days(Depend on Real-time Qty)
Material: Indium Ingot (In Ingot) Material: Dysprosium Metal (Dy Metal)
CAS: 7440-74-6 CAS: 7429-91-6
Purity: 2N, 3N, 4N, 4N5, 5N, 6N, 7N Melting Point: 1412 °C
In stock: 16PCS(8KG), 30% off market value In stock: 2+ KG, 40% off market value
Lead time: 3-7 days(Depend on Real-time Qty) Lead time: 3-7 days(Depend on Real-time Qty)
Material: Samarium Metals (Sm Metals) Material: Gadolinium Metal (Gd Metal)
CAS: 7440-19-9 CAS: 7440-54-2
Purity: 99%, 99.9% Melting Point: 1585 K (1312 °C, 2394 °F)
In stock: 10+ KG, off market value In stock: 4+ KG, 40% off.
Lead time: 3-7 days(Depend on Real-time Qty) Lead time: 3-7 days(Depend on Real-time Qty)
Material: Ytterbium Metal (Yb Metal) Material: Holmium Metal (Ho Metal)
CAS: 7440-64-4 CAS: 7440-60-0
Melting Point: 1,506°F (818.8°C) Melting Point: 1474 °C
Density (at R.T.): 6.90 g/m³ Boiling point: 2695 °C
In stock: 15+ KG, 30% off market value In stock: 1+ KG, 20% off market value
Lead time: 3-7 days(Depend on Real-time Qty) Lead time: 3-7 days(Depend on Real-time Qty)
Material: Hafnium Pellets (Hf Particles) Material: Tantalum Powder
Standard: ASTM B776 CAS: 7440-25-7
Purity: Hf+Zr > 99.95%, Zr < 1.5% Melting Point: 3017 °C
In stock: 5+ KG, 20% off market value In stock: 80+ KG, 20% off market value
Lead time: 3-7 days(Depend on Real-time Qty) Lead time: 3-7 days(Depend on Real-time Qty)
Material: W content: 85-99%, W-Ni-Fe, W-Ni-Cu Material: Scandium Fluoride, ScF3
Shape: ball/pellet CAS: 13709-47-2
Diameter: 1mm-100mm Purity: 99.9%, 99.99%, 99.999%
In stock: 2+ KG, 40% off market value In stock: 0.5 KG, 50% off market value
Lead time: 3-7 days(Depend on Real-time Qty) Lead time: 3-7 days(Depend on Real-time Qty)
Material: Dysprosium Fluoride(DyF3) Material: Ytterbium Fluoride (YbF3)
CAS: 13569-80-7 CAS: 13760-80-0
Molecular Weight: 219.50 Purity: 99-99.995%
In stock: 2+ KG, 40% off market value In stock : 0.8 KG, 50% off market value
Lead time: 3-7 days(Depend on Real-time Qty) Lead time: 3-7 days(Depend on Real-time Qty)
Material: Praseodymium (III) Fluoride Material: Yttrium Fluoride Powder
CAS: 13709-46-1 CAS: 13709-49-4
Purity: 99% -99.9% (REO) Purity: 99-99.995%
In stock: 2KG, 40% off market value In stock : 40+ KG, 30% off market value
Lead time: 3-7 days(Depend on Real-time Qty) Lead time: 3-7 days(Depend on Real-time Qty)
Material: NdFeB
Part No.: SMBN0446
Shape: Block(arc/cylinder available)
Grade: N52(N35SH/N40S/HN42 available)
Magnetization Direction: Through Thickness
Coating: Nickel Coated Magnets
In stock: 2000+ pcs, 30% off market value
Lead time: 3-7 days(Depend on Real-time Qty)